If you find this is a feature you require, please contact our Support team via support@startmail.com so we can help you further.
For your convenience, every email address you send to or receive from gets added to your Recipients List.
The email addresses automatically populate as a suggestion when you compose an email by typing in the first three letters of an address.
The Recipient's list feature is currently only available in Classic StartMail at the link below.
If you don't want to automatically add addresses to your Recipients List, disable this feature under Settings > Compose and deselect both Auto-fill email addresses boxes

To manage your Recipients List, go to Settings > Compose and click edit recipients list.

A window pops up with all the addresses you've sent to and received from. You may choose to add any email address you like to your Contacts or delete it from the Recipients List altogether.
Just click Ready when you're finished. You may delete all the addresses from your Recipients List at once by clicking Delete all entries.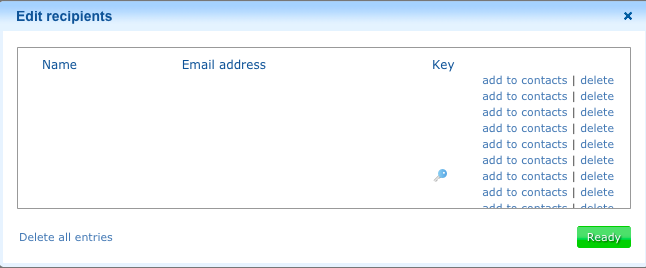 To finish setting up and editing a Contact in NEW StartMail. click the link: Managing contacts