This article will guide you through using Aliases.
In brief, an alias allows you to send and receive email at an email address different from your main StartMail account address. These email aliases end in use.startmail.com instead of startmail.com. This is done to ensure that email aliases, of which there can be many, do not conflict with the address options available for main email addresses. As a result, an email alias will look similar to the format: my_email_alias@use.startmail.com.
Alias types
You can create two different types of aliases:
A Custom alias, where you choose your own address.
A Quick alias, where the address name is system-generated.
There is no limit to the number of aliases you can create. Please note that emails sent to and from aliases will appear in your account's Inbox and Sent folders, just like emails sent to or from your main StartMail account address. Aliases do not have their own folders, although you can create a filter so incoming messages can go to a specific folder.
Why use an alias?
Quick alias: Let's say you want to purchase something online (concert tickets, for instance) that requires registration. You don't want to share your personal details, but you also don't want to deal with the hassle of managing a separate account. By using a quick alias, once it expires, the vendor cannot spam you. Your inbox stays spam-free!
Custom alias: Data leaks have unfortunately become common. If you need to register with your email address somewhere, for instance for registration for an online message board, you might want to sign up using a custom alias. If your email address ever leaks and spammers get to it, you can simply deactivate or delete the alias and senders will get a bounce back message.
Create an alias
Click on Aliases in the left menu (zoomed in view)


Click on Create Alias in the top menu bar.


A pop-up window opens. Here you can select what type of alias you want to create.
* Alias type: A Quick alias is a StartMail system-generated alias. A Custom alias allows you to create an alias name.
* Display name: Set a Display name so when you send a message from the alias, a different sender name will be used than your main address display name.
* Expiration: Set an expiration date if you want the alias to be removed automatically after a set time
To create a Quick alias, set your display name (if desired), set an expiration time and click on the blue Create Alias button.


To create a Custom Alias, set a display name (if desired), set an expiration time, and click on the

blue

Create Alias button.


Create an alias from compose view
It's also possible to create an alias directly when composing a message.
Click on the Create alias link on the Compose screen.




The steps are the same as when creating an alias from the Settings menu.


After you've created the alias, it is automatically selected as the address from which you'll send your message.


Change settings of an alias
Click the Edit button to the right of the alias.




On the next screen, change the Display name and/or expiration time. Click Update alias to save your changes.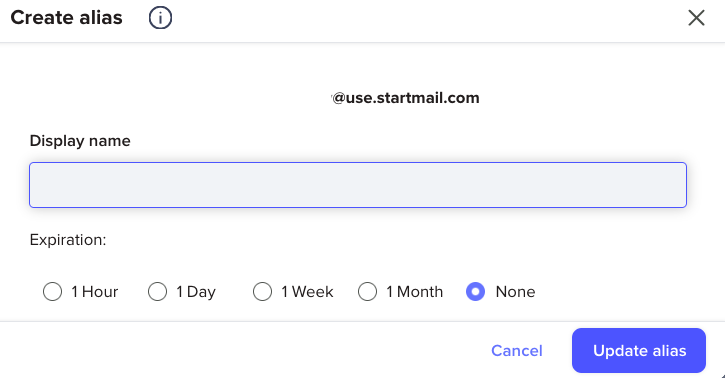 (De)activate an alias temporarily
Under Settings>Aliases, click the toggle on the left side of the alias address. This is a temporary setting and the alias can be reactivated by clicking on the toggle again. When set to OFF, senders will receive a bounce back or undeliverable message.





Delete an alias permanently
Click on the trash can icon to the right of the alias you want to permanently delete. Once an alias is permanently deleted, it can never be used again and senders will receive a bounce back or undeliverable message.




Read the warning. Confirm your action by clicking on Delete. As indicated in the warning dialogue: once an alias is deleted, it is not possible to recreate it.