Our team has an exciting announcement: We just launched the StartMail Referral Program!
When you share StartMail's private email service with others, you and your friend can earn a 50% discount for an account renewal or upgrade (from trial to paid account). For a limited time we are also including webcam covers as part of the referral program.
Sounds great, right? Here's how it works:
Invite your family and friends to open a StartMail Trial Account.
Know someone that wants to upgrade from a trial to a paid account? Send us an email (support@startmail.com) from your StartMail email address with "StartMail Referral Program" in the email subject and mention the new user's StartMail email address - no other info is needed!
You will both receive a 50% discount email confirmation in your email inboxes. After your friend has used the 50% discount to upgrade, you will receive your discount, which you can use to get 50% off your next (yearly) renewal.
If you have participated in the Referral Program and would like to receive a webcam cover, here's how it works:
Send an email to the following email address: webcam@startmail.com.
Include your StartMail email address and your mailing address.
We will send the camera cover to you.
Your credentials will then be deleted from our system.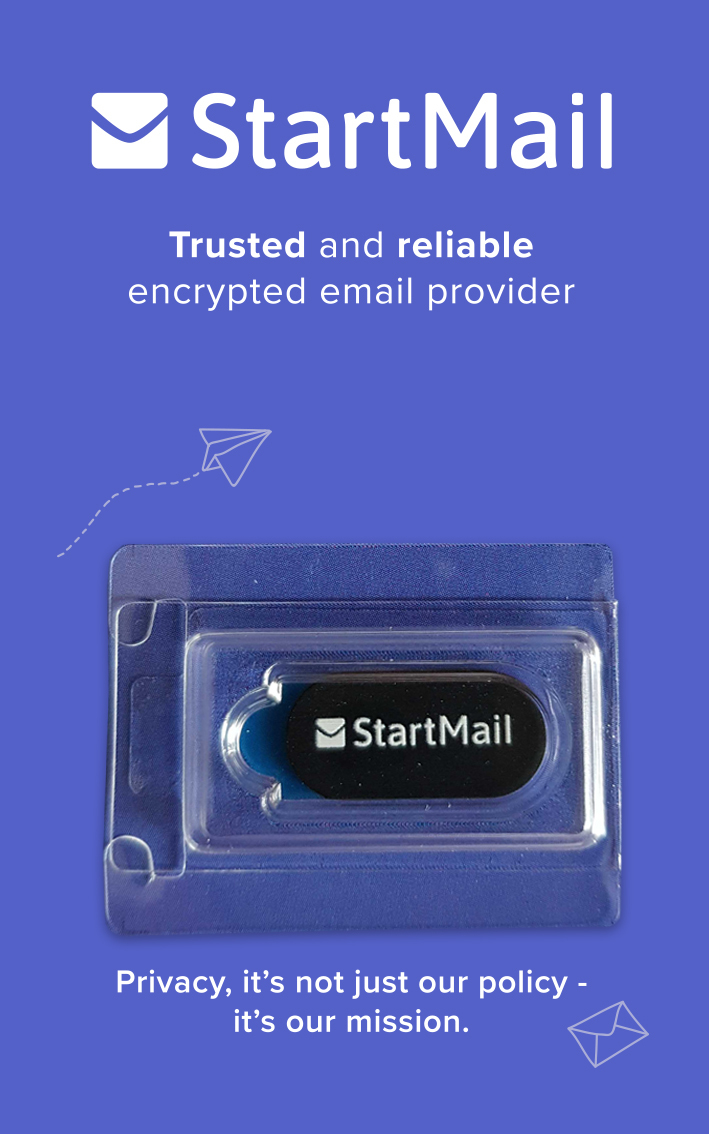 Some FAQs about your discount
Q: I am already a paying StartMail Account user. How do I use my discount?
A: You can use your discount for your next (yearly) renewal.
Q: I am new to StartMail and want to upgrade from a trial version. How do I use my discount?
A: You can use your discount right away for your upgrade to a StartMail Account and enjoy 50% off.
Q: I have already paid for my StartMail Account. Can I get a cash refund for my discount?
A: Sorry, we don't do cash refunds. But your discount will remain valid as long as you are with StartMail, so you can use it for your next (yearly) renewal.
Q: Oh no! I recommended StartMail last month and my friend already started a paid StartMail Account, and now we've missed out on the 50% discount.
A: No worries! The Referral Program is valid for all users that have created their StartMail accounts within the last month, so you can still benefit. Send us an email and you'll both receive a discount that you can use for your next account renewals.
Q: I've recommended StartMail to all my friends, and several of them want to open a StartMail Account. Can I get more than 1 discount?
A: Absolutely! There is no maximum to the number of 50% discounts you can earn. That means if you recommend at least 2 people in one year, your next 1-year renewal is free!
Terms and conditions
The referrer must notify support@startmail.com from an existing StartMail Account email address.
The new user must have created their StartMail Trial Account within the last month.
This offer cannot be exchanged for cash. If the new user has upgraded already – they get a 50% discount on their first renewal after 1 year. (base rate).
Please note: This offer is for a limited time and can be changed at StartMail's discretion. But don't worry, any discount vouchers earned during the Referral Program will remain valid.
If your StartMail Account has recently expired, or for any other questions regarding the Referral Program, feel free to contact us at support@startmail.com.